Summary and Goals
In 2022 I read 30 books, matching my 2021 count. I biased towards fiction (18) over non-fiction (12) this year. At the beginning of last year, I set out with categorical goals rather than a simple number for the year. My theory being that I might get a more diverse experience from reading over the year. I hit six of my ten goals:
| Goal | Progress |
| --- | --- |
| 1 biography | ❌ |
| 1 non-fiction book on a topic I wouldn't usually read about | ✅ |
| 1 deep dive on a topic (3-5 books on the same topic) | 🟩❌❌ |
| 1 Russian novel | ❌ |
| 1 book on reading | ❌ |
| 1 book on writing | ✅ |
| 2 books related to my job | 🟩✅️ |
| 2 books by a Person of Color | 🟩✅ |
| 5 books by female authors | 🟩🟩🟩🟩✅🟩🟩🟩🟩 |
| 10 fiction books | 🟩🟩🟩🟩🟩🟩🟩🟩🟩✅🟩🟩🟩🟩🟩🟩🟩 |
As an experiment, I found this 'small goals' to be a success even though I failed to hit all ten. I read more broadly instead of focusing only on non-fiction books related to my work, career, or general self-improvement.
On my failures: I never started the Russian novel because I never found a point in my reading last year where it felt like it would fit in. On the deep dive topic, I had chosen climate change. I read one book in this category, but ultimately found that reading into specific areas required reading papers rather than a book. I will revisit this goal in 2023 but choose a different topic area. The book on reading and the biography I simply never got to.
Favorites
Non-fiction
Non-fiction was a mixed bag for me this year. Dan Davies Lying for Money was excellent, and it details modern financial fraud. I would recommend Lying for Money to people who enjoy Michael Lewis or Matt Levine's On Money column. Both Patrick Raden Keefe books were excellent reporting and writing. Say Nothing is a compelling account of the Troubles in Ireland and the IRA which read like a movie. Rogues is a dozen long form essays on various criminals, vagabonds, and grifters from Keefe's reporting career. Finally, Clear and Simple as the Truth was a compact but informative guide on writing classic prose.
Fiction
I would recommended all the fiction I read this year with exception of Falling by T.J. Newman. My top 5 were:
Beautiful World, Where Are You tops my list for Rooney's sharp writing and characters that stayed with me days and weeks after I finished the book. A near tie for my favorite was Sea of Tranquility which combined an imaginative story line, crisp writing, and commentary on the pandemic. Sea of Tranquility ideally should be read after Station Eleven and The Glass Hotel, both of which are excellent. Rooney and Mandel have become must reads for me on anything new they write. Heat 2 was surprisingly good and entertaining if you enjoyed the movie Heat. Death's End is the conclusion to The Three Body Problem series. It is some of the best Sci-Fi I have ever read and is much more than "space" books. It is grounded in the politics of the Chinese politics, but speaks more broadly to social and philosophical questions.
Reading habit
I continued my daily streak habit for 2022 of trying to read (or listen to an audio book) 35 minutes a day. I had two major disruptions and missed ~5 days total this year. My longest consecutive streak is 318 days. I branched out into multiple formats this year: dead tree, audio book, kindle, and Apple books. For tracking my reading daily streak I liked to use the aptly named Streaks. For read and to-read tracking I switched from Goodreads to the much simpler and pleasing The StoryGraph. StoryGraph also has stats and a Spotify-like year end wrap up: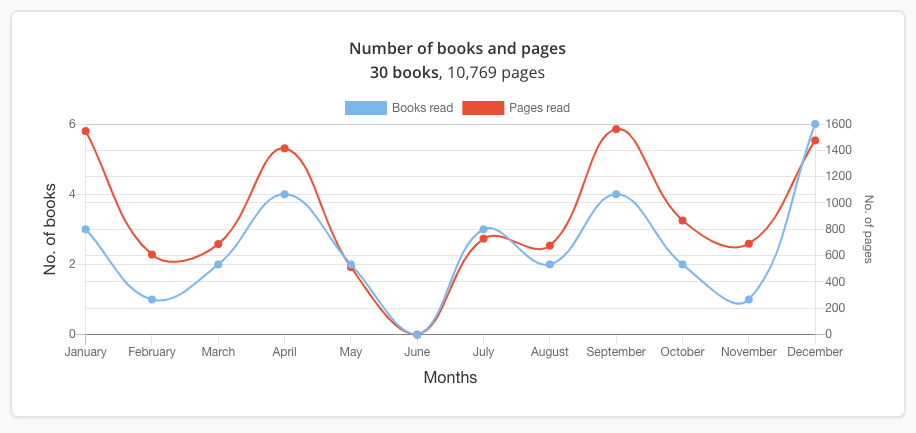 Goals for 2023
| Goal | Progress |
| --- | --- |
| 1 biography | ⬜ |
| 1 deep dive on a topic (3-5 books on the same topic) | ⬜⬜⬜ |
| 1 Russian novel | ⬜ |
| 1 book on reading | ⬜ |
| 1 book on writing | ⬜ |
| 2 books related to my job | ⬜️⬜ |
| 2 books focused on eastern culture or history | ⬜⬜ |
| 3 books on parenting | ⬜⬜⬜ |
| 5 books by female authors | ⬜⬜⬜⬜⬜ |
| 10 fiction books | ⬜⬜⬜⬜⬜⬜⬜⬜⬜⬜ |
Stats
| | 2021 | 2022 |
| --- | --- | --- |
| Non-fiction | 16 | 12 |
| Fiction | 14 | 18 |
| Pages read | 11,448 | 10,769 |
| Average Book Length | 382 | 358 |